With Furniture Services Inc., it's about more than just the furniture.
You Have Questions! We Have Answers!
Our professionals deliver and setup your entire furniture package down to the last pillow, lampshade and spoon. Whether you are relocating for a temporary assignment, on TDY with the military or temporarily displaced from your home, Furniture Services, Inc. will turn your house into a home for 3 months or 3 years.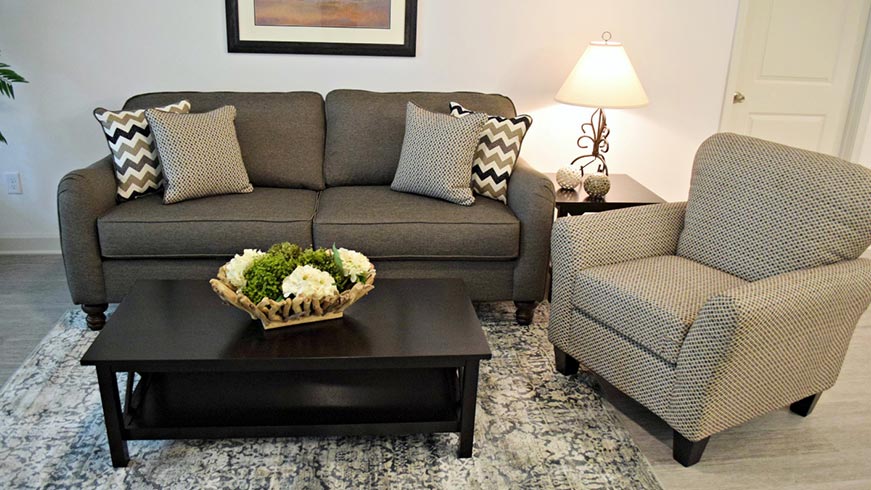 Why rent furniture?
Renting furniture from FSI is a hassle-free solution to make a house a home without the stress of moving your own furniture. If you are temporarily between homes, a new job, displaced, a student or intern, our furniture rental packages are a great solution.
How long will it take to get my furniture?
FSI offers next business day delivery after an approved application. Certain restrictions apply.
Can I order particular pieces and not a package?
We have carefully crafted our different furniture packages. These packages are less expensive when you order them as a complete set, and not individually. However, individual items can be ordered. Contact us for more information.
How long does it take for my application to be processed?
We run a credit check on all new clients. As soon as we get your leasing application it is off for approval. Usually, we will have approval within 24 hours.
What is my obligation in renting the furniture?
FSI only requires a $40 application fee, a 3-month minimum, a deposit equal to one month's rent (up to two months, based on credit), and a damage waiver of 7%. If you have pets, there is a fee of $20/month.
A damage waiver is FSI's insurance to cover the furniture if a fire or flood were to occur and cause damages. It is an additional 7% of the monthly rental amount. If your renter's or homeowner's insurance covers the cost of the furniture, with proof, we will waive the damage waiver fee.
How does the delivery fee work?
We charge a local delivery fee of $75 and an out-of-town delivery fee of $90-$150. This fee covers the cost of rental furniture delivery, setup, and pickup.
Yes, when you complete the application there is a page for billing information with an option to select automatic payment.
What if I don't need the furniture for the full 3 months?
We can pick the furniture up early if necessary, but you will be responsible to pay for the 3 full months of rent.
I am a student and I don't have credit, how should I complete the application?
If you're a student and have little to no credit history, FSI charges a security deposit that is equal to two month's rent.
How will I get back the deposit when my rental is complete?
After the furniture is picked up and assessed for damages, the deposit will be refunded to you with the method it was paid.

Select Your Furniture Package